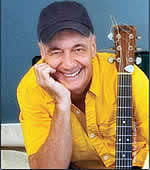 About Jerry Vandiver
Jerry Vandiver is originally from Kansas City and made the move to Nashville in 1984. Since then, he has been a staff writer for Dick James Music, Little Big Town Music, and Malaco Music while owning and managing a mail order demo studio on Music Row. He is currently an exclusive staff writer for Talbot Music. Jerry's first major label cut was "Don't Waste It On The Blues" by Gene Watson which reached #5 on the country charts. Since then, he has had songs recorded by Wild Rose, Lee Greenwood, Barbara Mandrell, Phil Vassar and two by Tim McGraw including "For A Little While" which reached #2 on the country charts and was performed by McGraw on the David Letterman Show. The song is also featured on McGraw's Greatest Hits CD. Thanks to Tim, Jerry now has songs on over 12 million records! Jerry latest cut entitled "Athens Grease" is on Phil Vassar's latest album. He is the co-author of Your First Cut: A Step-by-Step Guide To Getting There, available at www.yourfirstcut.com.

For more information on Jerry, or to purchase his CD Donít Try This At Home, visit www.jerryvandiver.com.